Save Countless Hours In Content Creation
LearnBee: In-Built Content Authoring Tool Powered By AI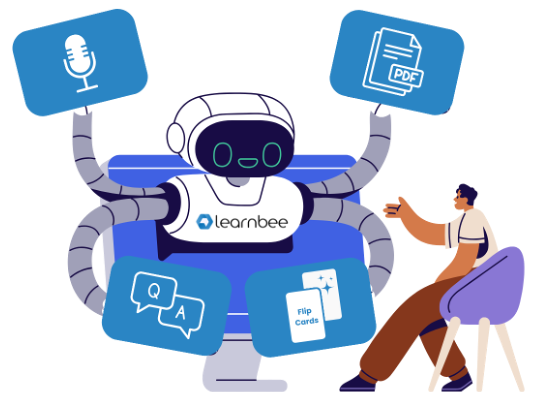 Save Countless Hours In Content Creation
LearnBee: In-Built Content Authoring Tool Powered By AI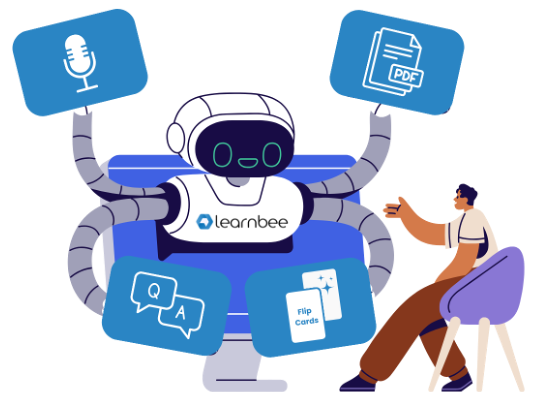 Traditional Training Content Creation Processes Are Complex
Traditional Training Content Creation Processes Are Complex
Learnbee Integrated With Bsharp Learn Makes It Easy
Create Training Content In Minutes with AI
Save Time By Repurposing Your Existing PDFs

Summarize Your PDF
Easy to find and consume micro-learning experiences

Ask AI to Generate Questions
Learnbee's AI can create questions for you effortlessly from your uploaded PDF, saving you time and effort.

Engaging Voiceovers
Reinforce information to your learners with captivating voiceovers. Choose from over 8 voiceover options.

Interactive Content
Elevate your content by adding interactive elements like Flip cards. Set theme, add timer & points to your questions.
Deploy Seamlessly With Your Existing LMS
Publish Your Created Learnbee Content Directly within Bsharp Learn

Content Deployment
Easily share your created content on Bsharp Learn by just entering the topic code.

Single Sign-On
One Bsharp ID for seamless learning experience. No multiple log-ins.

Consumption Reports
Get detailed training reports, consumption rates and measure engagement levels.

Manage Content
Learnbee stores your content, ensuring it's always at your fingertips for effortless reuse.
Save up to
4 hours
on content creation
50%
Increase in consumption rates
Save Time. Increase Impact.