Books that impacted me the most: 2021
By Gopal Swaminathan
Books are tools to influence thinking. They offer a sneak peek of the world from the vantage point of the great people who wrote them. Driven by the pandemic,  I had time to read a fair array of books in 2021 (a book every 8 days). Here are the ones that impacted my thinking the most.
No, I don't miss the rustle and smell of paper. I like the convenience of buying a book in a heartbeat. This was the year I went 100% digital – with Kindle (92%) and Audible (8%).
It pays to have wise friends on Good Reads. Without too much thought, I go for the books that have 5-star ratings from my great friends.
I find Farnam Street's Knowledge Project blog a great source of new book suggestions. So is Fareed Zakaria's GPS.
Top 5 Books 2021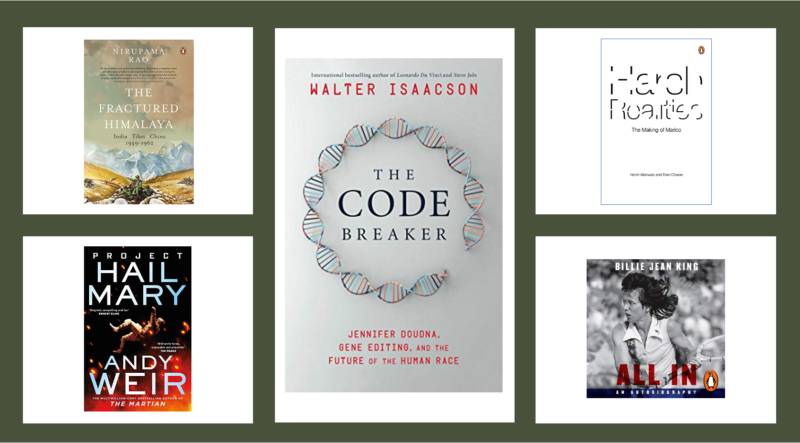 It is a crisp, nuanced analysis of the India-China relationship in the '48-'62 period, backed by intensive research. As our former Foreign Secretary, Mrs. Rao brings in decades of perspective from the best possible viewpoint.  Insight: Nehru was a lawyer while Chairman Mao was a warrior. The book helps us understand India's positioning in the China-South Asia axis, and why we are there. My respects to the detailed analysis and critical contributions of the brilliant Foreign Service mandarins. They toil in an environment of complex ambiguity to keep our country safe and powerful. 
This is editing the software of life! Use mRNA to edit out junk DNA sequences to 'delete' diseases from you. The CRISPR gene-editing tool will have more impact on life in the next decades than software had in the previous few. An inspiring story of research, co-opetition, and the race to announce life-changing technology.
A must-read for anyone interested in mapping the opportunities of the future. A good follow-up to Siddartha Mukherjee's The Gene: An Intimate Story, if you want to know more about the Gene and DNA before jumping into RNA.
How will humanity respond if they realize that the sun is running out of juice? And how will an individual human respond in the same scenario? Hail Mary captures your imagination with abundant doses of science facts and a mind-boggling giant leap of science fiction. "The hardest part about working with aliens and saving humanity from extinction is constantly having to come up with names for stuff." Enter the world of Astrophages, Taumoeba, VℓIλλ, and much much more.
The relevance of any book in your life is dependent on your life situation. In my entrepreneurial journey, I am looking at new products, new business models, new organizational structures, and new competitive forces. This book helped me stand on the shoulder of a giant and peek into how the world could evolve.
Mr. Mariwala has done it all – launch niche + enduring brands, built organizations, scaled them to success, and explored adjacencies. He is an inspiration for the journey I am onto. A neat explanation of the decision-making logic (example vs. HLL), while weighing in the downside possibilities, helped me to hone my thinking on some critical areas.
Billie Jean's story reminds you that you only get as much rights as you fight for. She fought to be considered equal to men. To play tennis. To be paid for it. For civil rights. For LGBTQ rights. The book brings out the forces that shaped her worldview on the East Coast in the '60s and the source code of her character. It highlights the indomitable willpower required to change the world for good.
Her defeat of Bobby Riggs in the 'battle of the sexes' was still a fascinating story in the '80s when I was introduced to tennis. In a now unimaginable story, Jean King worked as a 'towel assistant' in a local gym, after winning her first Wimbledon championship. Jean King (with others) fought for the Open era where professional athletes could be paid for their endeavors.
The Next 5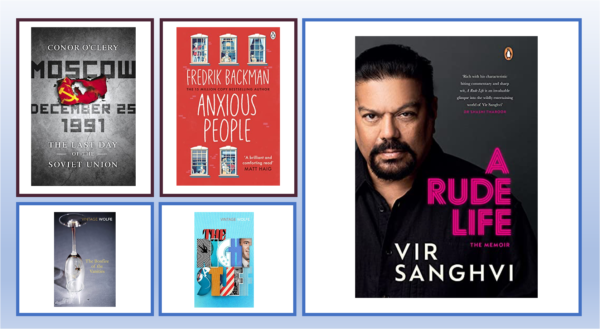 It was a good book year, this 2021. Else, these books could have been in the Top 5.
A Rude Life ('21): An interesting inside track of India's story and its orchestrators. The raconteur: The irrepressible Vir Sanghvi.
Moscow: 25th December 1991 ('11): Doddering, hard-drinking Boris Yeltsin, prickly, pedantic Gorbachev, and the fall of the mighty USSR!
Anxious People ('19): Everyone is anxious for a human connection. Soul reading. For a rainy day with a cup of hot chocolate.
Bon Fire of Vanities ('87): Life is a Ponzi scheme of ambitions. One day, it collapses. Many ambitions, many collapses, one story.
The Right Stuff ('08): How do you test the performance contours of in-development fighter jets? Is it a long way from sky to space?
That's it. Hope that was useful. May you read many impactful books in 2022.