NGOs: Free Mobile Data Collection Offer
As part of your NGO's operations, you collect a lot of data. It could be daily reporting of healthcare workers. Or a field report about the status of a farm. Or a summary about an event conducted in a far away school. Many NGO's still use the "Pen and paper" system to collect the reports. A form is distributed to the NGO Field Worker, who fills it up and submits it back in the Office.
Can this be converted into a "Mobile Data Collection" process? This will improve the
speed, efficiency and accuracy
of the field data collection.
The
"Mobile Data Collection"
(MDC) is the use of mobile phones, tablets or PDAs for data collection from the field workers. It will help you collect quantitative data, without use of paper forms.
What do you require to move to a "Mobile Data Collection" process?
A flexible system to configure the data collection forms of your users
A Mobile App in the Smartphone of the Field Worker, where they can review the form and fill it up.
The BsharpCorp SAAS application provides an end to end solution for you. Ten NGOs get this solution free of cost to their Field Users for 6 months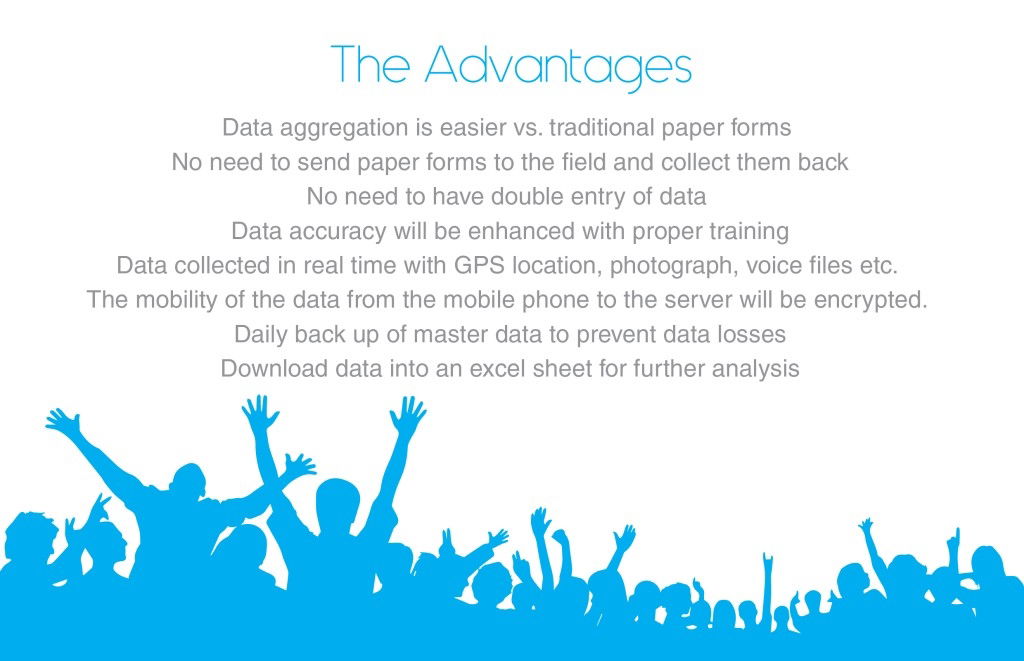 Customise Data Collection:
Bsharp lets you to customise the field data collection, with the following features:
Collect Data and Text information
Multiple choice, Radio button questions.
GPS, Photographs, Voice files.
Collect it based on a pre-fixed customer ID (location).
Collect it based on a pre-fixed Product SKU (if relevant)
Problem with internet connections? The system works offline in Android or iOS devices. It will automatically sync the data when a connection is detected. Note that the phone will need to have a GPS facility and connection to record GPS co-ordinates.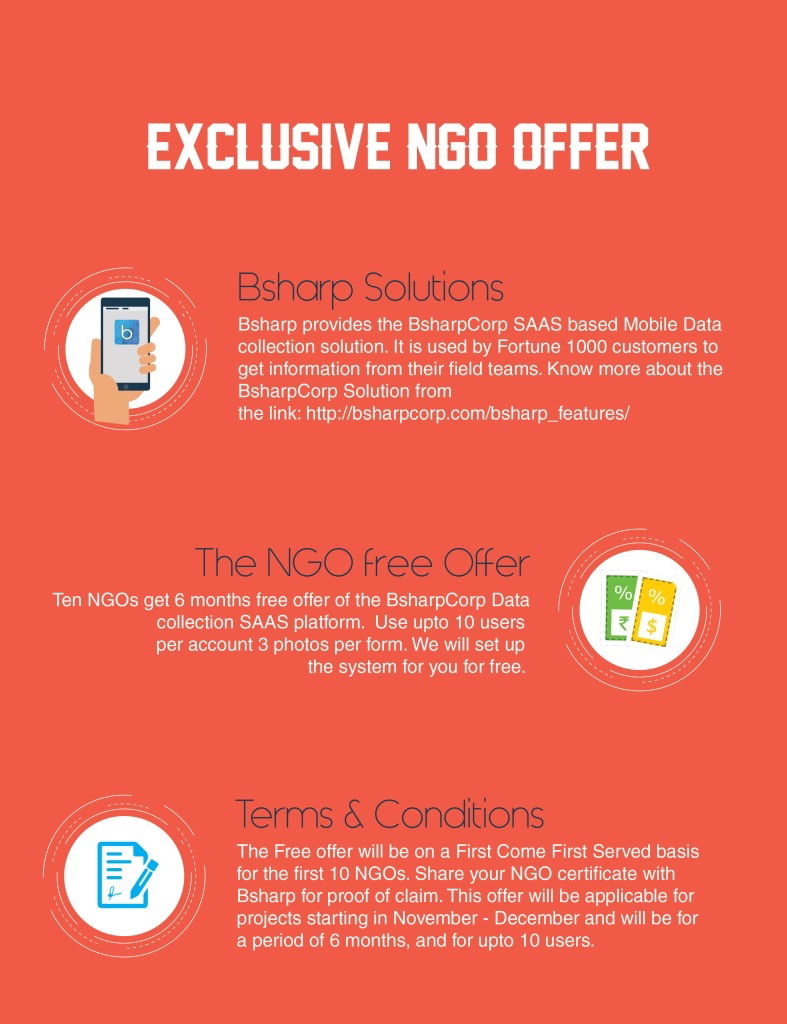 So, what is the catch?
There is none. There is no more fine print. If you are an NGO and are working with paper forms for field data collection, move to the BsharpCorp app. To demonstrate our committment to your cause, we offer the First 10 NGOs the BsharpCorp platform free of cost for the first 6 months. Write to us at hi@www.bsharpcorp.com