Illustration of the Experience Economy
Illustration of the Experience Economy
The greatest opportunity for businesses is to move everything they offer to customers, higher up on what is referred to as the progression of economic value. The four levels of economic value are:
The progression of economic value starts with commodities (mostly in raw form) that are transformed into goods or products which when coated with frills becomes a service and then with steps to make it endearing makes it an experience.
At each increasing level, the value provided to the customer increases and in parallel the price which the customer pays also increases.
Correspondingly at every stage price sensitivity decreases, margins increase and competition decreases.
A great example will be coffee. Companies that trade coffee only get a dollar or two a pound. When a manufacturer grinds, packages, and sells those same beans to a grocery store, turning them into goods, the price to the consumer is $6 to $12 per pound (10- 30c per cup). If the same coffee is sold in a café, then it can sell for about $1.50 per cup. Bigger brands like Starbucks or Peets can charge upto $ 3 per cup as they involve experiential aspects while selling their cup of coffee.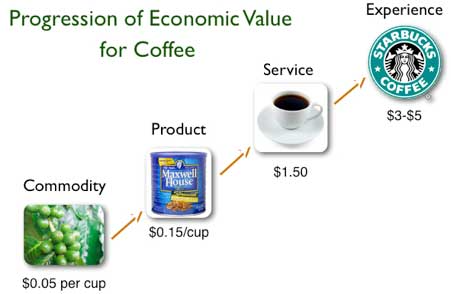 As the product moves up the progression of economic value to an experience, the discounting decreases. Starbucks does not need to get into discounts to get footfalls. Customers what a good cup of coffee enveloped by a great experience at prices which are 10X the commodity price.
Set up 2021 for growth. Build learning, flexibility, visibility, and engagement with your field force.
Run a free pilot of the Bsharp app until March 31st. Observe the impact.
Gear up for 2021 with the right ammunition.
Author: S Vejay Anand
Vejay Anand is an independent consultant with expertise in strategy, marketing, sales and operations. ​He has over two decades of experience across industries including retail and technology. Leading new business initiatives as the President at Coffee Day and founding two startups have given Vejay key insights​​ that benefit the organisations he consults at.