How Celebrate brings employee engagement to a Google Chat Space
How Celebrate brings employee engagement to a Google Chat Space
Google Chat Spaces is a great venue to build an engaging culture for your workforce
The culture of a small team can be influenced by various factors, including Recognizing efforts, Providing actionable feedback, Celebrating milestones, and Aligning common values.
Engagement tools are more effective when they operate within the same platform as the team and If your team uses Google Chat as their primary mode of communication then Celebrate is the ideal tool for fostering team engagement.
Here's how Celebrate integrates seamlessly with Google Chat Spaces to bring engagement to your team.
Recognise a teammate on Google Chat
Celebrate lets you award badges and certificates to a teammate to recognize a job well done.
If you've added the Celebrate bot to one of your Google Chat Spaces, you'll be able to award a badge directly from the space using an easy command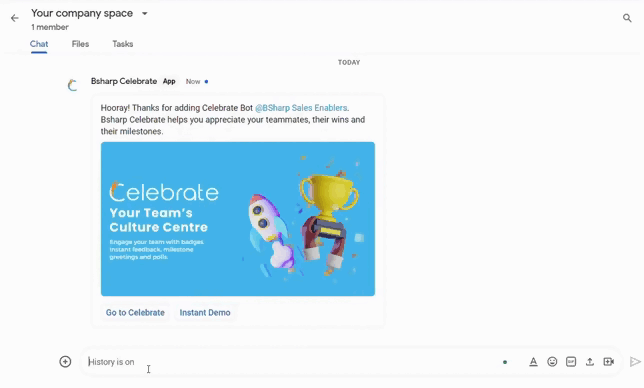 Using the give badge command, you'll be able to name teammates, choose from a set of badges and even assign a company value to the badge.
For more on awarding Celebrate badges using commands in Google Chat Space: Click here
Provide instant feedback on Google Chat
Celebrate lets you share feedback directly from Google Chat Space. You can mention multiple teammates, choose the feedback's severity and give it a title.
Feedback given using the /Share_feedback within a space will only be visible to the giver of the feedback and not all the participants within a space.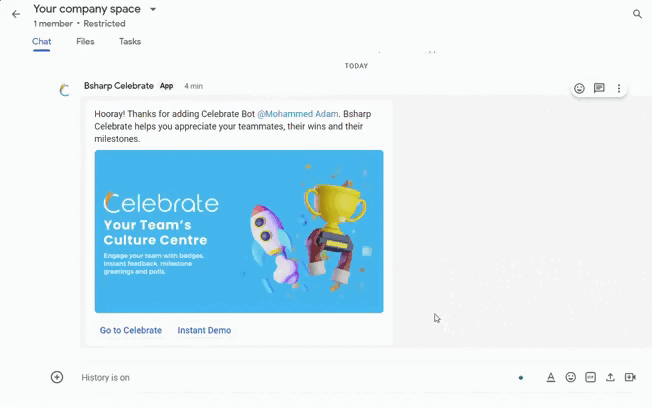 Run polls within Google Chat
Celebrate lets you use the /Create_poll command to launch a poll with your Google Chat Space. Add a question and poll options.
Celebrate launches a poll instantly with your space.
Stay notified from Google Chat
Celebrate keeps you notified of your teammate's birthday or work anniversary. It also sends out all posts to your Google Chat space for your team to react, comment and engage.
Celebrate also sends out "Daily thoughts" to keep your team motivated and inspired.
Get started today for free
Celebrate is #1 on the popularity rankings on Google Chat, providing you to establish a culture of recognition and engagement that drives growth and success.