If you missed the clash between Barcelona and PSG on 9th March 2017, this is what the score card looked like…
Barcelona 1. PSG 0. Barcelona 2. PSG 0. Barcelona 3. PSG 0. Barcelona 3. PSG 1. Barcelona 4. PSG 1. Barcelona 5. PSG 1. Barcelona 6. PSG out of the champion's league.
So, what have we learnt? Keeping score is fun and helpful to. Because sometimes, giving out participation certificates might just not cut it.
Especially, when you have a retail stores all over the country and you need to step up your game against your competitors.
So this is how you can approach this,
You will obviously have to audit your stores to see which of your stores are doing well. To see which of them are at par with the standard you and the industry sets, you will have to grade them on parameters that you think are important.
So, you can send out a bunch of auditors. You know, people with legal pads, pencils and cameras. They audit the store using their questionnaires, fill them out and then mails them to your team. Your team then collates. Happily through the night. Excel sheets. Assigning scores to answers. Then begin tabulating the scores.
Multiple cups of coffee and several hours later, you finally know which of your stores is doing better that the other. You now, finally have your best store and your weakest link.
Ok, now let us note down the various things that could have gone wrong.
The auditor might have not found the store and yet audited it :).
The hand filled questionnaires could have got lost in transit and if you received them by email, they might not have been scanned properly.
Auditor's hand writing could be illegible
Data entry and collation can help a lot of errors to creep in.
A bunch of rogue pigeons could attack the mailman/woman en route your office.
You could do all this. And account for all of the above points. Or,
You could just,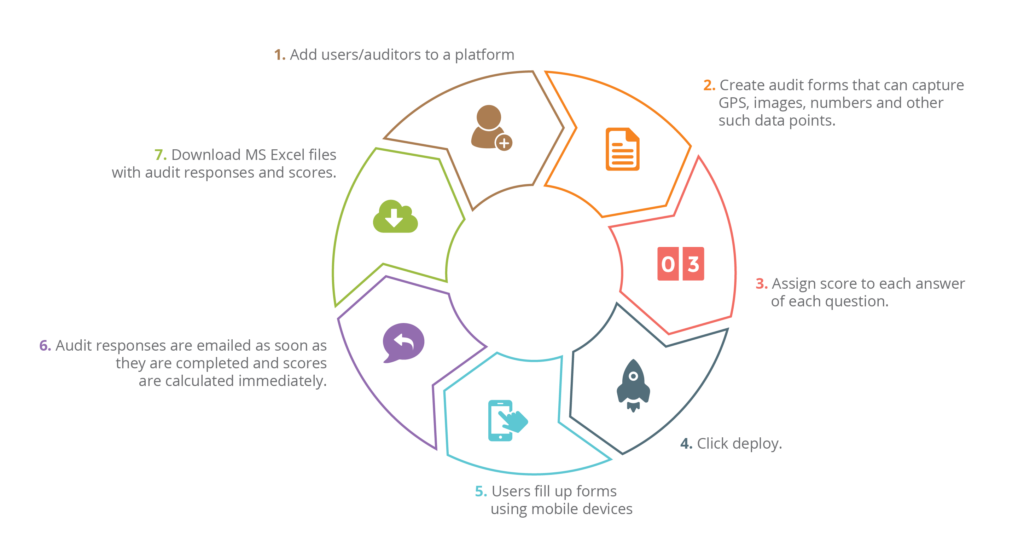 Voila, analytics ready audit data in 7 steps. You now know your strongest store and the ones that need to improve.
Aren't points fun?
Let us know what you think.
PS. No PSG fans were hurt when this blog was being written.