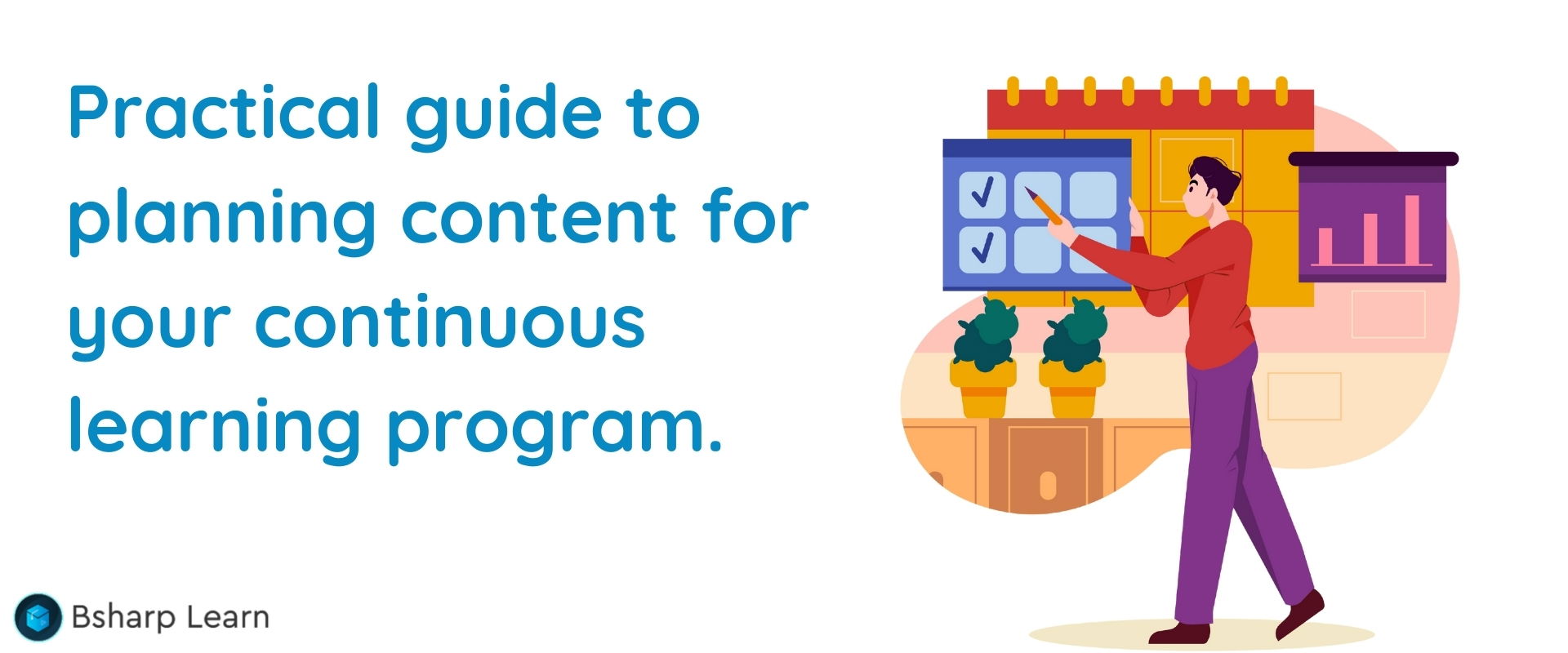 A key ingredient in any continuous learning program is a content cadence that works for your frontline.
What does 'works for your frontline' mean? It should be easy to access, consume and help them do their work better. In this blog, let's understand what are the key aspects of creating content for a continuous learning program for the frontline.
Content that your team needs
To simplify things, you could categorise content as: content to learn, content to engage and content to refer.
This should be structured content that's planned along with the relevant business units. To ease the adoption/consumption of your learning content, make it relevant to your team's learning needs and take it close to ground realities.
Product or service training – Ideally should cover target audience, an elevator pitch and features, advantages and benefits.
New skill training content – Must cover core skill theory, role-plays and real-life application examples.
Think of this as reinforcement content or content that keeps your frontline connected to the brand. Here are a few examples:
Motivational messages – Could contain messages from management or simple messages like 'Seize the day.'
Tip of the week – Cover aspects such as selling tips, benefits of any feature or corporate updates.
Reinforcement learning – Base this on the areas of improvement that you identify from tools such as assessments. Bsharp Learn's questions tags are a great way to identify knowledge gaps that you can plug using reinforcement learning content.
Simply put, this is content your frontline will use on the field. Content that can be used during customer walkthroughs or quick refreshers that come in handy before customer face time. Brochures, product videos and case studies work great as reference material.
Tip:
Get constant feedback on the learning content you create and assign to your team. Platforms such as Bsharp Learn let you collect star ratings and open-ended feedback.
It's important to have clear distinctions between the different types of content. Your team should be able to find content they need in seconds. An easy folder or channel-based system should help.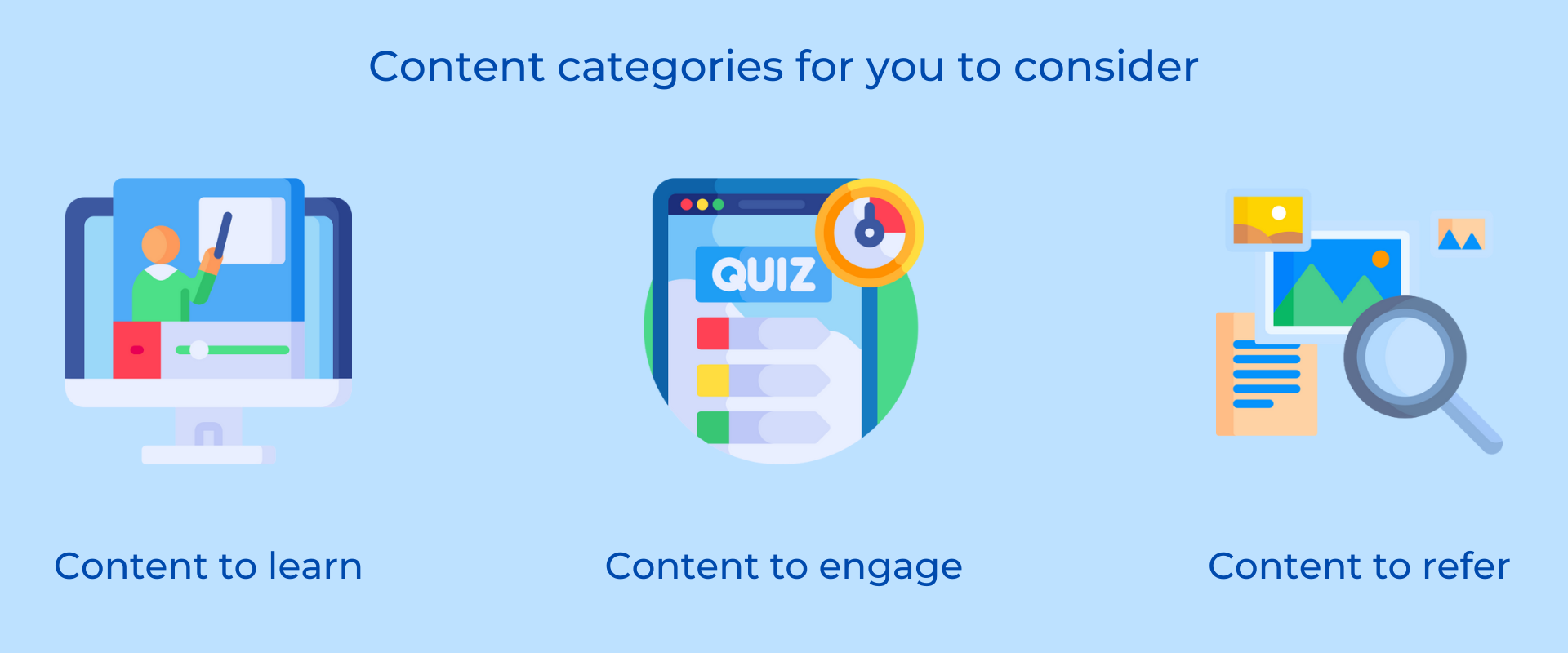 Deciding on the frequency of content:
The best way to go with this is to start with a couple of assumptions and then tweak it based on what works best for your team. Your initial plan could be something like the following:
The week could begin with a Monday motivational message (content to engage)
Deploy training (content to learn) at the start of every week.
Share a tip or reinforcement learning (content to engage) mid-week.
An assessment/ quiz on the Friday of the third week of every month.
Tips:
Invest some time in creating a content calendar. A simple excel sheet that chalks out days on which content needs to go live will help you stay on course.
The idea behind setting a content cadence is to bring in predictability. Your frontline should come to expect content on planned days.
Communication is going to be key. Teasers and launch communication really help in adoptions.
Content consumption and feedback reports will help you bring in reason to your content plans. For instance, Bsharp Learn's reports highlight when content is consumed by each learner, the feedback they provide and the areas of improvement that are based on their assessments. Use this data to understand the pulse of the field, what works for them and deploy content accordingly.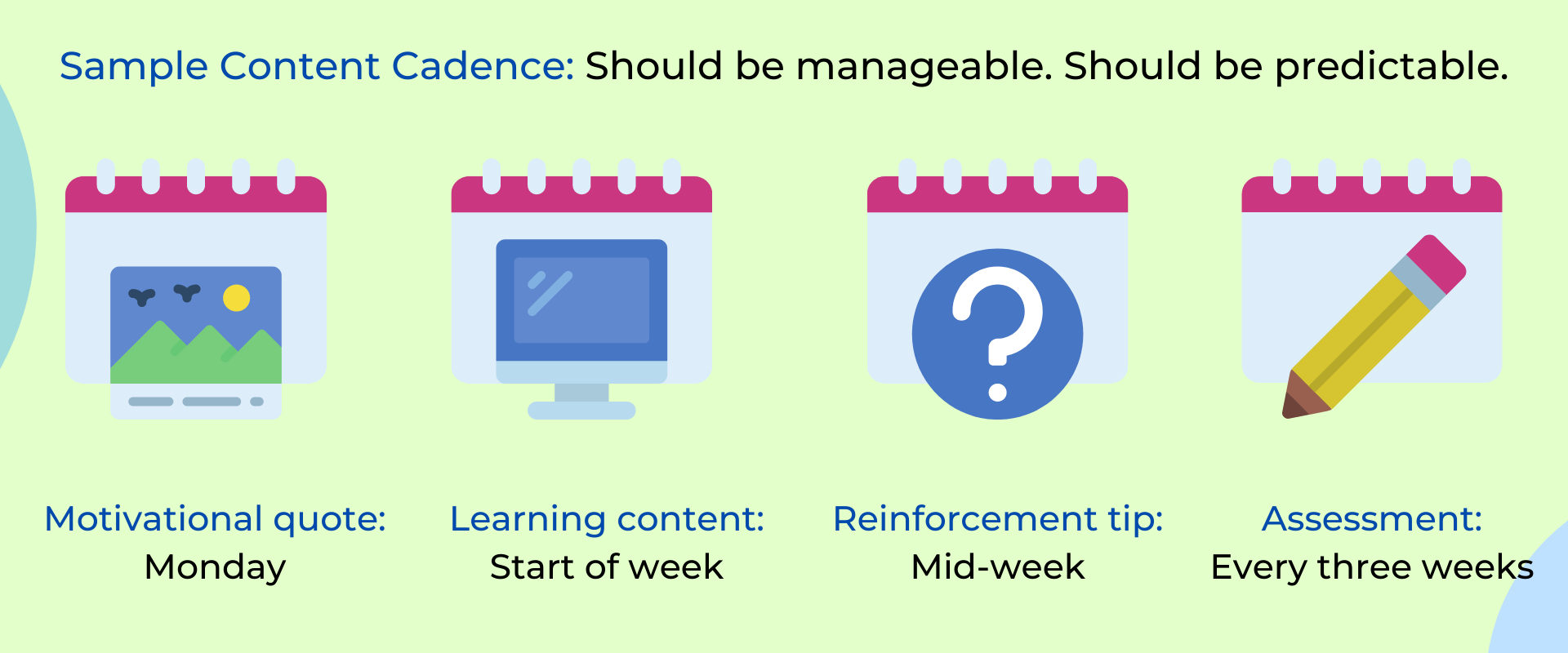 Deciding on format of content:
Easy to access. Easy to consume. Field first. These are going to be the basic rules to keep in mind when deciding on formats for your content. To simplify, let's go back to our content categories.
Content to learn: SCORM, HTML5 and Mp4 work best for learning content. Supplement this content with basic animations and voice over to help in absorption. Having said that, don't restrict yourself to this format type. In our experience, even something as simple as a brochure could work as a piece of training.
For example, Bsharp Learn allows administrators to assign a quiz to any content and set a minimum viewing time to your content. That way, your company brochure could also be used as a training module.
Content to engage: 30-second videos and 1 page PDFs work great for this category of content. Since you're also going to be basing this off the areas of improvement that you've identified, keeping this short and to the point will yield great results.
Tips:
Don't restrict yourself to content formats. Focus on the content and how it will benefit your team on the field.
Metrics such as completion percentages and time spent are a great indicator of how well your content is being received.
Remember, your content is going to be used by the frontline. Your content should be accessible. Options such as streaming and offline view are going to be key.
You'll need to give your program enough time to yield results, but, at the same time, you should be open to shift its direction based on how your frontline is responding to it. With a good content plan in place, you will be able to steer your team towards a culture of continuous learning and improvement.