Industry
Fashion Retail
Location
India
Challenges
Distributed field team
Inability to conduct classroom training session
Engage and audience who have bandwidth or network issues.
Upskill on selling techniques
Key Features
Flexible training structure
Points and gamification
Question-wise analytics to identify strength and weaknesses
Founded in 1985, celio is a leading men's ready-to-wear brand from France that's present in over 50 countries.
In India it operates in different in store formats such as company-owned-company operated, multi-brand outlets, and shop-in-shop with a frontline team that's approximately 700+ strong.
On March 25, 2020, when India went on a nation-wide lockdown, The head of HR at celio India, Ms. Binny  Mathen and her team, made it their mission to keep their frontline engaged and in-sync. Using cSquad (Platform powered by Bsharp), and through the course of the lockdown Team celio was able to gather approx. 6000 hours of engagement.
Objectives
Objectives
Team celio wanted to focus on 3 key aspects:
Provide the team with quick updates to keep them safe

Educate the entire team on celio's products from the upcoming season

Keep them engaged with daily engagement hours

Upskill the team on key aspects such as retail selling skills
Team celio leveraged cSquad (powered by Bsharp) to engage, educate and equip their frontline. cSquad's super flexible learning, assessments, and notification structure contributed to a successful and continuous engagement program within celio. The team at celio could even run contests on it!
"cSquad (a white-labelled Bsharp platform) has been a great tool to help us engage and train our frontline staff. It's not a typical LMS. It has an employee engagement story woven into its features. Our frontline finds it easy to use as it is easily accessible across iOS, Android and PC. And, Bsharp has also thought about system administrators when designing the platform. From allowing multiple content formats to be deployed to allowing us to pull out reports with a few clicks. It's really easy."
Binny Mathen
Head HR – celio India

Key Achievements
Key Achievements
Team celio was able to imagine multiple frontline engagement scenarios owing to cSquad's (powered by Bsharp) flexible structure.
Timely updates to keep them safe
Timely updates to keep them safe
Keeping their employees safe was of utmost priority. cSquad could easily accommodate these updates in multiple formats. The system administrator could easily create a channel for covid-related updates and share periodic updates.
The clear UI and UX made it easy for the frontline to stay updated and view the updates quickly.
Key metrics:
Key metrics:
3250 views
30+ hours of viewing time
Training on the new season's line up
Training on the new season's line up
Platform allowed multiple content formats which allowed enabled the HR team to turn any piece of content into a training.
Key metrics:
Key metrics:
approx. 90%+ users completed the entire module
Area sales manager (ASM) led training
Area sales manager (ASM) led training
Who better to train you than your direct manager. ASM shared their 2-3 minute training videos to the central HR team. The HR team could then upload these videos and couple it with a short assessment. This format was widely accepted and received great reviews.
Key metrics:
Key metrics:
180+ hours spent on retail training by their own managers.
Average users engaged across 5 modules: 90%+
How to introduce yourself contest
How to introduce yourself contest
Sales associates were asked to upload their self introductions. The best in class introductions were uploaded for the entire team to like and comment.
It was learning blended with fun.
It was learning blended with fun.
Summary
Summary
With cSquad, celio was able to create an easy manageable and measurable frontline engagement and training program during the lockdown. Employees could use the easy to understand and navigate mobile app to take part in contests, get quick updates and feel a sense of involvement even when work colleagues interactions were non existent.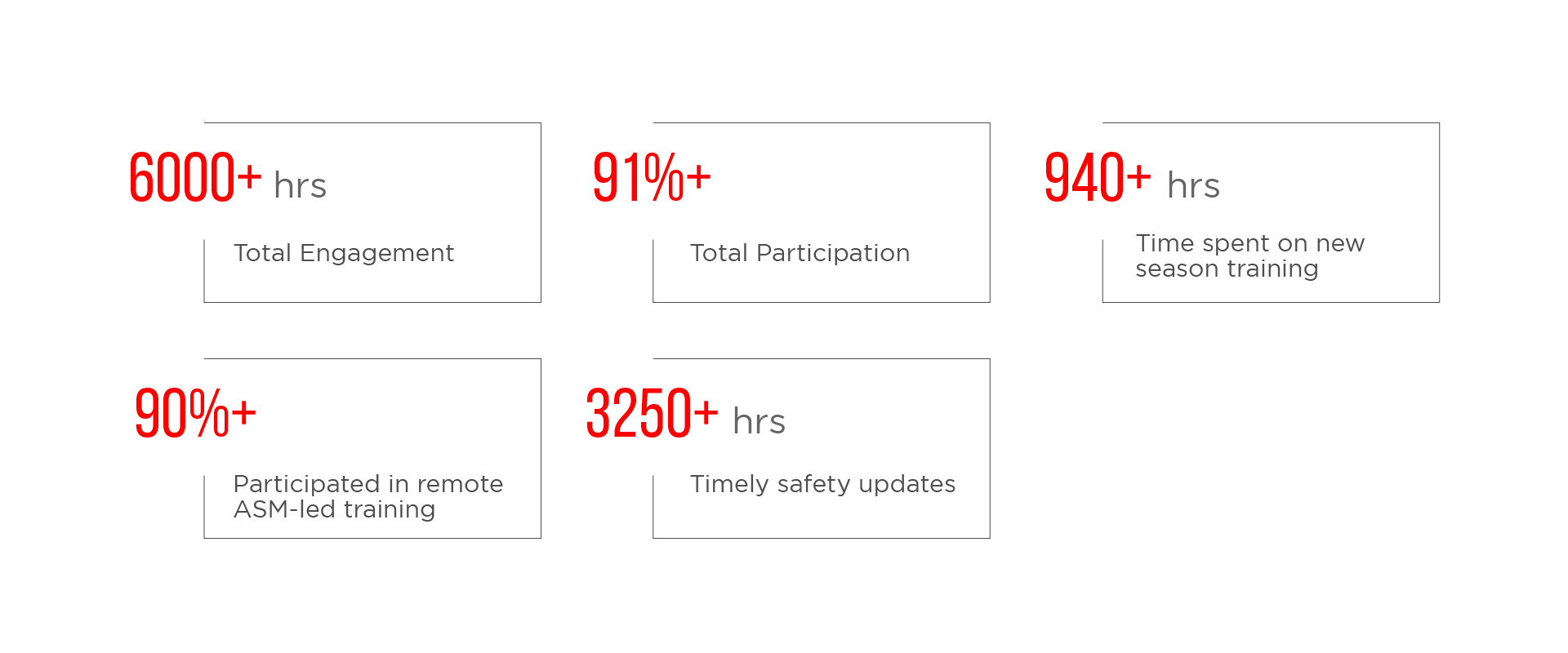 Like celio, you too can enable, engage and equip your frontline.
Everyday. Anywhere
Like celio, you too can enable, engage and equip your frontline.
Everyday. Anywhere