Tips to keep your teams focused through the quarter.
Tips to keep your teams focused through the quarter.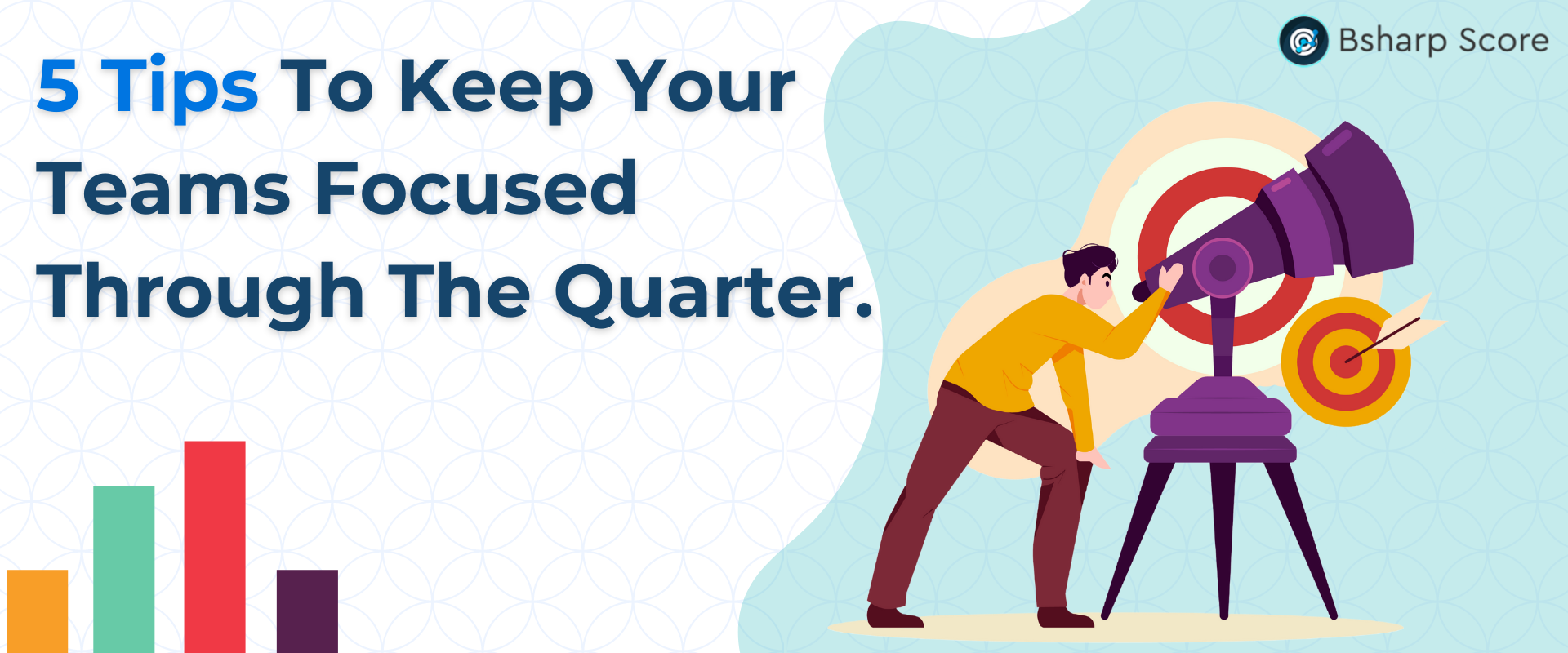 On your big roadmap to drive your company to success, your quarterly plans are going to be the ones that will help you to review and make sure your strategies are on the right track.
Here are a few tips to help you keep your team focused through the quarter.
Tip 1: Clearly state what their goals are for the quarter
Teams can stay focused only if they know what is expected of them and where they stand with respect to their quarterly goals. Setting up KPIs for your teams will make it easy for them to understand what they should achieve. You will also need to keep a track of your team's performance and have regular discussions on their performance.
Tip 2: Set clear timelines
3 months is the timeline for every quarter but it is better to have a breakdown of the KPIs with shorter timelines. So that the team finds it easy to stay motivated when they can achieve some small KPIs within a shorter timeline. It is also important to set deadlines for every KPI.
Tip 3: Include training as part of your quarterly plan
Some employees find it difficult to complete their KPIs within the given time. But a little training to upskill can take them a long way. Train your employees before the quarter starts specifically on the tasks they are required to complete. So that everyone has the knowledge they need to improve their metrics.
Tip 4: Push them to achieve more
Even a small push from the manager can bring about a big difference in a team's performance. It is necessary that you remind them about their targets regularly. Communication to teams should be personalised. One-size-fits-all communication is not very effective in the case of motivating employees. Communication should be based on the performance of every individual so that they get the feeling that their efforts are not going unrecognised.
Tip 5: Motivate your team regularly
Motivation is a key factor that can help your team achieve their KPIs. Everyone likes to get appreciated for their hard work. There are several ways to motivate teams, and contests are one of the best ways to go about it. Employees feel more motivated to perform when there is a friendly competition among peers. Recognition and rewards from the manager will make the team put in maximum effort and improve their performance at an even faster rate.
So for the next quarter before working on your strategies, make a plan to keep your teams focused to bring the maximum output from those strategies.
A KPI gamification tool like Bsharp Score can make these tasks easy for you. You can create KPIs and contests around KPIs along with learning modules for your teams to keep them focused throughout the quarter.